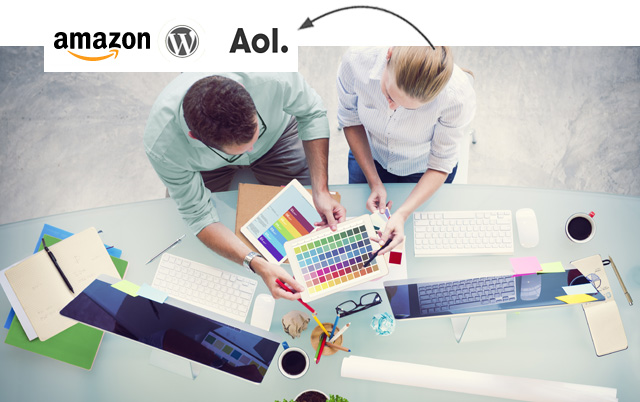 When it comes to logos, only the best logo wins. Before you embark on a journey to brand your company with a cool new logo, it is important to understand the mechanics of logo creation in relation to how they should work both on and off the Internet.
RECOMMENDED
Try this Exercise
Close your eyes for a moment. Think about some of the most popular logo designs. What springs into your mind? Chances are, you envisioned the logos for monster companies like the logos for Google, Facebook, Twitter, Amazon, EBay, MSN, Microsoft or Yahoo. Why do you imagine this is? While logo designs come and go, massive multi-million dollar companies recognized one commonly successful logo creation principal: they kept their logo simple. Even though that's a great start, your logo creation tutorial doesn't stop here.
Know More than you Need to About Website Load Times
Your logo must be three things: trendy, fashionable and fast. You don't want your logo to hamstring you in your website's load time by taking too long and losing you potential business. The most successful logos are strategically placed in either the upper left or upper right hand corner of the homepage and remains prominently displayed, in the same position, on each subsequent page. Consistency is key. Test your website load times and then test them again. Your goal is to have your website load almost instantly. If it doesn't, it's time to go back to the drawing board.
Understand How Branding Affects Customer Recognition
When you were busy thinking about company logos earlier, it was easy for you to envision popular website logos because you have seen those images a thousand times, repeatedly. If someone were to test your knowledge by removing the letters on these logos and showed you only the logos themselves, you would still be able to identify the brand. That is how powerful having a good logo is for your business.
When you are designing your logo, customize it and make it your own. Make your design relevant, trendy, hip and the graphics uncomplicated. Many successful logos blend letters, abbreviations and uncluttered graphics, but don't rely only on successful logos of the past to dictate your future. Do some market research. Test your design on friends and family. Ask them which version of your logo they relate to best. Remember, your logo isn't for you, it's for your business. The easier your logo is for the public to look at will be the easier your logo transitions from unknown to a household name.
Your Logo Should be Easy to Reproduce
Think big. Don't relegate your logo to your website alone. The more customers see your logo, the more customers you earn. Never miss an opportunity to advertise your brand.
Your graphic should be simple enough to embroider or iron on t-shirts, burn on coffee mugs, slap on pens, easy to print on a business card and you logo should be optimized for prominent display on company letterhead. If you keep your website logo uncluttered and clean, it's simple to transition that logo to other mediums. No matter how you slice it, that's a smart advertising move.
Be Ready to Pay
Good logos don't come cheap. Most custom logo designers charge anywhere from $40 – $400 or more for a great logo, but it's worth every penny. Since you know what's at stake in relation to having a top-notch logo, it makes sense to invest in the best logo money can buy.
Now that you know the scoop about logos, may the best logo win.