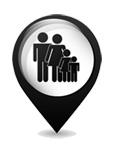 Genealogy has been a field of study for thousands of years, but until fairly recently, was reserved for nobles and clergy. In the early 19th century, however, genealogical research was systematized by historians, making it much more accessible to commoners. Later in the 19th and early 20 th centuries, the Latter-Day Saints took those efforts even further, developing one of the most comprehensive and extensive genealogical databases in the world. With the advent of the internet, the combined efforts of historians, genealogists, and religious groups became known and available to everyone with an internet connection, leading to a huge resurgence in genealogical interest. Ancestral research is now one of the most popular topics on the internet. Despite having so much information at our fingertips, however, where to begin is still the most common question asked in genealogical forums and search engines.
The internet is full of ancestral research sites, family trees, collections of census records, and parish registers. Which ones will benefit you depends largely on what you are hoping to achieve; are you interested in a very basic tree that consists of you, your parents, their parents, and maybe their parents? Or are you hoping to trace each line back as far as it possibly can be, perhaps finding a royal, a president, or a celebrity somewhere way back in your ancestry? Are you willing to invest time and money into your research, or is it just a casual hobby to you? Those are questions only you can answer, and they will, down the road, impact the direction your research takes you. There are a few basic things everyone, whether casual hobbyist or dedicated researcher, will need when first starting out, however.
First and foremost, you need a system. Whether you prefer to work with pen and paper, or have an advanced digital database, you want to be organized right from the get-go. There are numerous ways to organize your information, but most genealogists will recommend a system that divides maternal lines and paternal lines, further divided into surname files. This is especially important if you have common surnames in your ancestry – you may end up with two or three completely different Smith families (for example), so it is vital to organize in such a way as to avoid mixing up different families of the same name. If working with pen and paper, a couple of binders and a lot of dividers are highly recommended. If working digitally, well-organized files on your own computer are a must.
Once you've set up your system and begun your research, you may wish to reach out to distant relatives, or others that are researching the same families. This can benefit you, and them, in numerous ways; from a sense of connectedness to an expansion of resources, discovering living relatives all over the world is an invaluable aspect of genealogical research. There are several ways to connect with distant relatives and fellow researchers: Facebook groups and pages dedicated to genealogy or a specific surname, genealogical societies, family history websites, local archives, and online genealogical forums are just a few. It's also highly recommended that you create an online family tree. There are several free or inexpensive websites that offer well-organized family trees, and their privacy options allow you to hide the information of living persons, while sharing and asking for information on common ancestors.
However you decide to go about your research, patience and good resources will be your key to success. Sit down with older relatives and ask them questions. Scour census and parish records for familiar names. Visit family graveyards and local libraries. Create a bookmark folder with useful websites, genealogical societies, and photo archives. The more resources you have, the easier, and more fascinating, your ancestral research becomes.