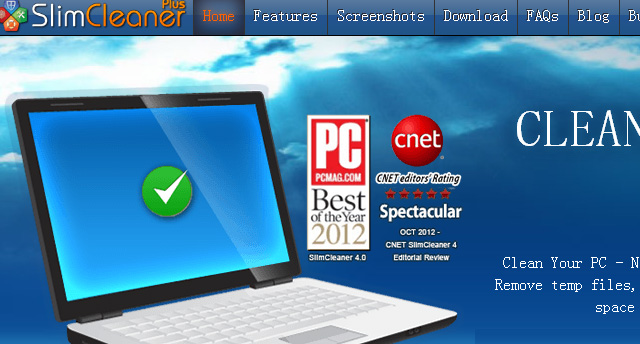 Conventional PC tune-up software does its job in a direct way – when installed on a computer, it makes tweaks that can lighten your computer's load by getting rid of deadweight. What it chooses to clean up and what it leaves alone is rigidly defined by factory programming. SlimCleaner changes all of that.
RECOMMENDED
Unlike other cleanup software, SlimCleaner doesn't work to rigidly defined cleanup rules. Instead, it constantly refers to user data collected from the software's user base to find out what the optimal cleanup policy is likely to be. It tries to keep the user base interested in contributing user information by awarding badges of recognition to the most helpful members.In other words, SlimCleaner is the world's first socially programmed PC cleanup utility.
Installing Slimcleaner 4
SlimCleaner 4 is free and is compatible with every version of Windows since Windows 98. The fact that it's free gives it an immediate advantage over competitors such as TuneUp Utilities that cost around $50 (and only come with 3 licenses to a purchase, on top).
The user interface on SlimCleaner 4
SlimCleaner comes with a well laid out interface that is done to a colorful, minimalist aesthetic. A panel on the left gives you a number of category choices to pick, depending on what you want to get done. Your choices are Cleaner, Optimize, Software, Browsers, Windows Tools, Disk Tools and Hijack Log.
When you click on any one of these categories, a subpanel opens up with your choices laid out on the main display area. On some categories such as Disk Tools, the option set opens in a new window. While it can be a hassle to have to deal with multiple windows, it's the way SlimCleaner prefers to do things.
Getting into the features
When you first turn on the interface, it defaults to the Cleaner category with tabs called Windows, Applications, Browsers, Advanced and Registry. Clicking on the Analyze button lets you put the software through its paces – it analyzes your computer and comes back with a list of problems. If you haven't cleaned your PC in months, you can expect to see hundreds of potential problem files listed. Hitting the Clean button can wipe out all these cookies and other unnecessary files.
SlimCleaner offers you great flexibility here. If the list contains useful files that you'd like to retain, it's easy to locate them and save them. For instance, if you wish to keep all cookies that retain login information for your Facebook, email or other user accounts, you have a feature called IntelliCookie Filter to make sure that those remain safe.
You have far more than just the Analyze button to play with
If you have a slow startup problem on your computer, unnecessary programs launching in the background at startup could be the cause. The Optimize button on SlimCleaner lets you trim your startup load.
While any cleanup utility will give you a list of startup programs, they don't usually tell you what each program does. This can be a problem – many important startup programs are obscure ones and can be hard to identify. You can make mistakes shutting useful programs down. Not on SlimCleaner, though.
Here, you get detailed information on what exactly each program does. This is one area where the social information on SlimCleaner comes in handy – you get to read about the experience that other users have had shutting down every startup program. If you try to shut down something that the community has generally approved of, you get warnings (your computer does need to be connected to the Internet for this feature to work, though).
You have plenty of other useful tools
The Uninstaller tool: This tool scans your computer for all the different programs that you have installed and lets you uninstall anything you don't use or need – even toolbars and extensions. You get to do all the uninstalling you need at one place. If you have had trouble with rogue toolbars, SlimCleaner will probably take care of it. Once you clean up all the junk clogging up your browsers, you'll notice that they work much faster. As capable an uninstaller as this is, though, it doesn't have a feature that competing products do – it can't uninstall multiple applications at the same time. Others are able to multitask.
The Shredder tool: This useful function helps you permanently delete files. It overwrites those files with new data to make completely sure that the old data is really gone. You get to order as many as 35 overwrites to make sure that your files are truly gone. Data that is deleted in this way can't even be recovered with recovery software. The Shredder tool has the same important usability feature missing as the Uninstall tool – it can only shred one file at a time.
Your kit of utilities
A number of useful utilities round out the package:
The Hijack Log scans your computer for software that's the most vulnerable to third-party attacks.
The Intelligent Defrag utility allows you to pre-program when exactly you would like your defragmenting tool to run.
The Software Updater constantly keeps your computer updated with new driver updates.
The Solid-State Drive Optimization Utility scans your solid-state hard drives to optimize file organization and to eliminate duplicated files. Files load more quickly this way.
What kind of performance improvements do you actually get to see?
As generous and as innovative as SlimCleaner's feature set is, it wouldn't be any use if it didn't produce tangible results. As it happens, though, the features do work extremely well. If you've never cleaned up your PC before, running SlimCleaner should improve your boot times by 20%. You should see your programs launch more quickly, too.
The bottom line
SlimCleaner would be an excellent set of tune-up utilities even if it didn't have community-based guidance at every point. This innovative and helpful new feature, though, puts this software package way above the competition. SlimCleaner is undoubtedly the most user-friendly software that you can find to keep your PC in shape.