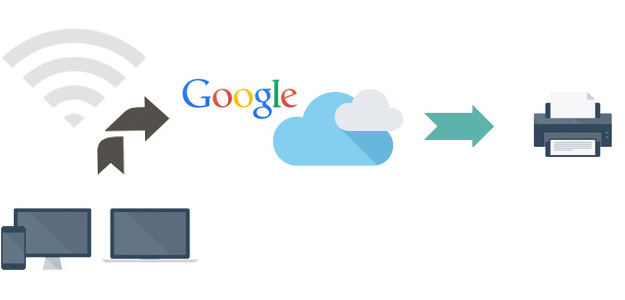 Imagine that you need to print some documents, and you are not nearby your printer. You can get into a nearby Internet café and get the documents printed for a charge, or you can still print the documents over the web through your networked printer back home. You can even use your friend's printer or the office printer to get the documents printed. Google Cloud Print is an application that helps you set up remote printers for printing through PCs, laptops, or cell phones over the Internet. This article gives all the information about setting up Cloud Print on your system.
Although there is competition, Google has emerged as the winner in the cloud-printing arena. You can have your printer set up on your laptop, PC, or your cell phone with the help of this application.
Cloud Print can be set up on modern printers, which support PC-less setup, as well as traditional printers. Several manufacturers of printers—HP, Epson, Kodak, Canon, etc.—have begun manufacturing printers that can be connected to the Internet without the help of a computer, in order to receive and print documents from remote locations. These so-called cloud ready products are targeted toward the cloud printing technology. Since these printers have Internet connection always, they also keep their firmware updated.
The idea of cloud printing came at first through Google Chrome OS, and Chromebooks have complete support for this technology. You can set up Cloud Print through Google Chrome browser. As the first step, if you do not have Chrome browser installed, download and install the browser. Go to the Chrome Settings page and click on Advanced Settings (or "Under the Hood"). At the bottom of this page, you will find the option to set up Cloud Print.
After it has been set up, you can add multiple printers. You can print your documents from any device that has Internet access. Depending on the platform you are on, you can find a number of apps that support Cloud Print. Google Chrome browser can help print on any device. For Android, you have specific apps like Google Docs, Cloud Print, Easy Print, Fiabee, etc., that support cloud printing. If you are using an iPhone, you can use an app named PrintCentral Pro. On PCs, you can use any web browser to print a document (if you see a 'Print' button attached to Google Cloud Print logo). A specific app available for the Mac operating system is Cloud Printer and on Windows, you have Paperless Printer.
All these apps can be downloaded from Google Cloud Print website or from their specific websites. You can share a printer you have set up with any of your friends. Also, you can add any number of printers to your account.
An important concern of web-based printing is the security of the documents printed. Google gives HTTPS (secure HTTP) connections for document transfer and shreds the printed documents from their servers. This way, you can be sure that your documents securely reach your printers and get printed.
Conclusion
Google Cloud Print technology gives a lot of convenience. Printing is an everyday job for many people, and most of them are not near a printer when in need. Cloud Print service can greatly help such people. In addition, with the printer-sharing feature, you can make use of your friends' networked printers also, with their permission.