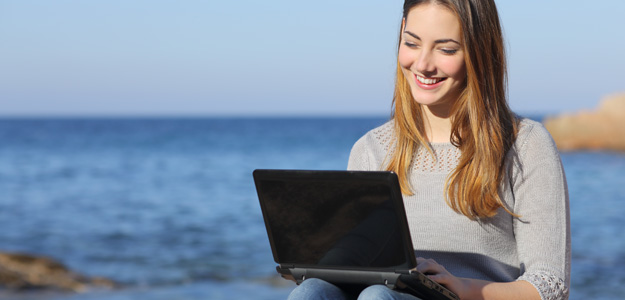 You're traveling to the Bahamas or a resort somewhere else in the world and you want broadband Internet access to stay in touch with your business associates, keep up with the latest trends in your niche, or just share your trip with family and friends. You need to create a Wi-Fi internet connection by converting your cell phone into a super broadband modem… but how?
First and most importantly, you need a laptop computer or a tablet: almost any model will do. Just remember to put it in your luggage before boarding the plane.
Secondly, you need a cell phone, preferably one manufactured after 2005 as they usually have a USB port and Bluetooth.
Step 1: Things to check before you leave
Make sure you have everything you need to set up the connection before you set off for your trip. Log in to your laptop to verify that it's working properly. To be on the safe side, scan for viruses and do a system defrag.
You also need to ensure that the software CD that came with your phone is not only available but working. Put it in the computer for a test. If you don't have the CD, make sure you download a copy before leaving.
Finally, make sure you pack your USB cable – you'll need it to connect your phone to the computer!
Step 2: Plug your phone into your computer
To turn your cell phone into a modem, the first thing to do is to plug your phone into your laptop using the USB cable. Most modern phones come with a USB port, especially Android and smartphones. After plugging in your phone, follow the steps to set up a connection between your computer and the phone.
Step 3: Install connection software
To connect your phone, you must install the connection software. You can get this from your mobile carrier, download it from your cell phone manufacturer's website, or get it from your CD. Once you have installed the software, you're ready to go: just hit the button and connect your mobile with your computer. You should get a live broadband internet connection at this point.
The main problem with converting your mobile phone into a modem is that, although the process is simple and convenient, the connection speed is a bit slow. You can check your mail and share your vacation with your loved ones, but it's unlikely you'll be able to watch YouTube videos or stream films with this setup.
RECOMMENDED