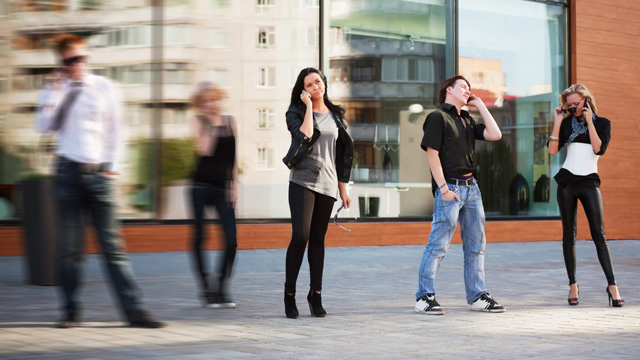 Buying a new  cell phone can be a stressful experience. Choosing the right device and accessories might seem daunting, but with a little planning, as well as some insider info, scoring your next phone can be a smooth and stress-free experience.
Purchasing mobile devices online is an increasingly popular way for consumers to get a new phone, but there are still benefits to in-person shopping. Phone manufacturers constantly release new models, and while this provides a wide range of pricing and features, having so many options can make the process of choosing the right device seem overwhelming. In-store sales representatives are trained in guided selling, a sales process of determining your needs and helping narrow your choices. Through asking questions about how you use your current device (or how you intend to use your new one), a knowledgeable sales rep can recommend models that fit your specific needs. Reps might even be able to demonstrate new features you didn't even know existed!
In addition to helping you pick out a phone, a sales rep will help you find the right accessories, such as cases and screen protectors. While accessories are optional, and can sometimes add significant cost to your purchase, investing in a protective case is a wise decision. Many people don't realize that carriers subsidize the up-front cost of your phone, allowing you to buy $300-800 devices for much less when you sign a contract. The contract ensures that they make their money back on the discounted device. This usually means that carriers only allow a subsidized phone purchase every two years or so. If you break your phone in the meantime, repairs can be costly. Carriers sometimes provide a protection plan, but just like any other type of insurance, there is often a deductible which can run $100 or more. If your phone takes a tumble to the pavement, having a quality protective case on it can save you the headache (and wallet-ache) of dealing with a broken device. Don't skimp on the case, either. As the adage goes, "you get what you pay for." Cheap, generic accessories won't have the same level of quality and protection as their brand-name counterparts.
Once you've whittled your list down to a few phones and picked out some accessories, you may be tempted (or even pressured) to make a purchase on the spot; however, it pays to resist this urge. Delaying your purchase has two benefits: it allows you time to do your own research, and it can help you get a better deal. While sales reps are an excellent source of information, they often receive bonuses or other incentives to sell certain devices, and are trained to create a sense of urgency to buy. In order to make a more informed purchase, write down the phones you are considering, take the list home, and search the web for reviews of each phone. Some sites even allow you to compare different models side-by-side and include reviews from other consumers as well as tech experts. A little bit of internet research can ensure that your money is well spent.
When you've decided on a device, give the sales rep who was helping you a call to ask what kinds of deals she can offer you. Sales reps want your business, and in the cell phone industry, reps often have leeway to give you deals and discounts to close the sale. This might not mean a lower price on the phone itself, but other incentives such as discounted (or even free) accessories are frequently offered to customers who seem "on the fence." Even if a rep does not immediately offer any discounts, don't be afraid to haggle, since reps won't give deals if they don't have to.
The prospect of getting a new cell phone can be exciting, but the process of choosing the right  device and accessories can end up turning that excitement into dread. Arming yourself ahead of time with the right information can greatly reduce the stress involved in finding the right phone, and having the discipline to walk away long enough to do your homework can save you both money and frustration. Remembering these tips can make your next cell phone purchase a much easier experience.