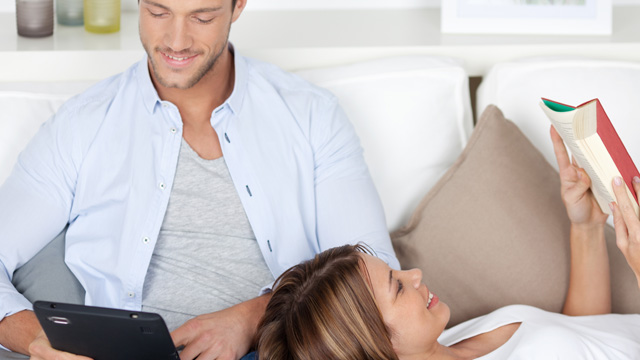 Books are one of the oldest inventions known to man and have remained relatively unchanged until recent times. With the advent of computers — specifically tablets and smartphones — readers can now read digital books on a variety of different devices. Although some will find this technology advantageous and indispensable, there are several reasons why a reader may still prefer the same method of reading that has been used for thousands of years.
Convenience
The greatest advantage e-books have over traditional printed books is storage. E-readers such as iPads, Kindle's, Nook's, etc. are able to store thousands of books in a tiny footprint. Compared to traditional books, you would have to fill up entire rooms to store that much reading material. E-readers take the hassle of finding space in your home and allow you to store as many e-books as you want on a single device.
Because you're able to store so many e-books on an e-reader, portability is extremely easy. Gone are the days where you have to lug a backpack full of books. With e-books you are able to carry your entire library and not worry about forgetting that all-too-important book at home. This is a great advantage for students who have to use many textbooks or for travellers who enjoy reading on their vacation.
Another advantage of e-readers is that they do more than just allow you to read. You can look up words or phrases that you don't understand and highlight material without permanently marking the book. If you find a particular passage interesting, you can send it to your friends and family via email or cut and paste it into a separate document for later use. E-readers are also relatively inexpensive when you consider all that they are capable of doing.
Free Selections
If you're a fan of classic literature or would like to read some of the greatest works ever written, most public-domain e-books are 100% free. You'll be able to download classic books at no cost that would cost you money if were you to buy their physical counterparts. These books range in a variety of topics and fans of all types of writing are certain to find something they'll enjoy. You'll literally be able to save thousands of dollars by taking advantage of these books.
Since e-readers do more than just allow you to read, you can also download a plethora of free classic audiobooks and listen to them on your device. This is a great benefit for those that don't have a lot of free time to read yet still want to enjoy great writing. It's also convenient for those that are struggling to get through a difficult book. With an e-reader, you will be able to listen to someone read classic books to you at no cost.
With all the money you'll be able to save by reading free classic literature, your e-reader will pay for itself in no time. And if you're a fan of physical books, you can use the money you saved to buy new books and continue to build your traditional library while still taking advantage of modern technology. Many long-time readers choose to go this route because they don't want to completely abandon the printed word.
Pricing
The biggest complaint from e-book consumers is the price they have to pay for a digital file. The vast majority of new e-books cost about as much as a printed book and the price is not expected to drop anytime soon. When you purchase a printed book, you have something tangible that you can hold in your hand and put on display on your bookshelf. When you purchase an e-book, all you have is an invisible file that is visible only when you decide to open it.
Unlike video- and music-streaming services like Netflix and Spotify, there is no subscription-based program available for fans of reading that encompasses a majority of books. Two popular services — Oyster and Scribd — offer hundreds of thousands of books for a monthly fee but unfortunately not all major publishers are on board. Until publishing houses agree to offer their collections on a subscription basis, consumers are forced to pay full price for their books.
Even with the demise of bookstores all throughout the world, there are still plenty of second-hand store-fronts that buy and sell books at reasonable prices. Consumers are able to purchase books for less than a dollar and sell or trade-in their unwanted books. This is something that will never be possible with e-books and until the price of digital reading is significantly reduced, purchasing printed books may be more cost-effective depending on the types of books you buy.
Nostalgia
Most consumers that are able to purchase an e-reader have spent the majority of their life reading traditional books. They are not accustomed to reading on a digital screen and are uncertain if they are willing to make the leap into a digital-reading lifestyle. Couple this with the fact that a lot of people already spend a large part of their day in front of a computer screen and it's no surprise that some still prefer regular books.
After a long day at work there is no better way to unwind than with a good book. And if you work on a computer it's a great way to relieve stress from your eyes and "unplug" for a few minutes. E-readers — while useful and practical devices — don't offer the sanctity and comfort that printed words provide. And even though some e-readers mimic the look of real books, the technology is simply not as advanced as one would like it to be.
Perhaps the best advantage regular books have over e-books is familiarity. Many readers have fond memories of curling up on the couch with their favorite dog-eared paperback during a rainy day. This is a relatively simple experience that many people have grown to love yet it can never be duplicated with an e-reading device. It's memories like this that will always leave a place for printed books in the hearts of readers — as well as their bookshelf.